You are here
Home
› The Nuits Carrées
The Nuits Carrées
Thursday 28 June 2018
-
Saturday 30 June 2018
avenue du 11 novembre
Amphithéâtre du Fort Carré
France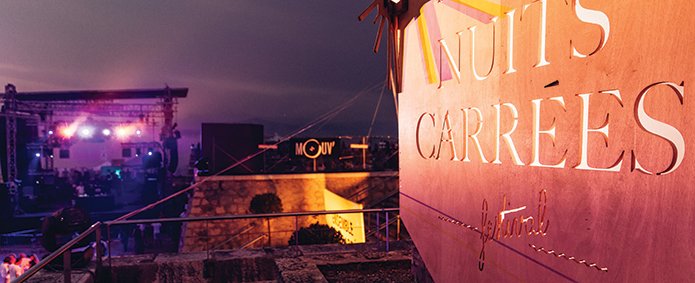 28th to 30th June
The Nuits Carrées Festival, organised by the association Label Note, will be celebrating its 12 years of existence! This Festival has become an unmissable event, seeing in the start of summer festivities with a flourish.
Each evening, the doors open from 7pm, then from 8pm almost 8 hours of live music are performed to the huge audience massed within the amphitheatre of the Fort Carré. Nearly 10,000 people are present in the terraces.
Nuits Carrées presents many artists from the hip-hop, jazz or electro scene. And for the first time, a rock evening! To start its new decade of existence in a great way, the festival has added a new live evening at the foot of the Fort Carré. The aim: to highlight the aesthetics of Rock !
Thursday June 28 – PLEYMO ( France – Nu Metal)
This first festival evening will be turned towards a 100% French rock program mixing new discoveries and renowned bands and will be closed by PLEYMO, the band that inspired an entire generation.
The return of the legendary Nu Metal made in France!
The "Nuits Carrées" continue in their Rock momentum!
THE number one band of the 2000's French scene is coming back and they are awaited by an entire generation!
Friday June 29 – ROMEO ELVIS (Belgium – Hip Hop)
Roméo Elvis is without a doubt THE revelation of 2016.
After the success of his EP "Morale", Roméo Elvis collaborated for a second time with the talented producer Le Motel for "Morale 2". His deep voice and Le Motel's hypnotic melodies gave birth to a project with varied and magnetic rhythms. A natural collaboration, with seductive and electronic sounds that propelled Roméo on the biggest French and Belgian stages.  One of the true leaders of a new wave of Belgian artists, and at only 24 years old, Roméo Elvis is already on everyone's lips.
Saturday June 30 – PERTURBATOR (France – Electro)
After having literally turned over the biggest festivals of the planet, Perturbator is about to shake the Nuits Carrées while closing the last evening.
After a sold out American tour, Perturbator has delivered his new EP "New Model", already available and praised by the international press.
A huge phenomenon of the Dark SynthWave movement, Perturbator keeps moving forward and will start his summer tour at the bottom of the Fort Carré.