Sport and Action
Diving session, departure from port Gallice.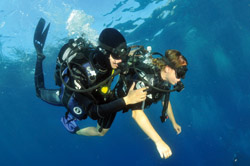 Deep-sea diving is an activity open to everyone. So all divers are welcome: children from age 8, adults, seniors. Adapted material (size, shape and flexibility) and bottles will be provided, so that your underwater adventure will be a pleasant one.
Introductory session: discovery of the full material and its usage, the main safety rules and communication codes. These elements will then enable you to go and explore the depths with your own personal monitor who will accompany you during your first flipper strokes. The introductory sessions take place at sea, with the boat heading out for a duration of 2 and a half hours. One and a half hours on site will allow you to listen to your monitor's instructions, bathe if you wish and set out for an underwater session lasting around 30 minutes. Sessions at the beach are also possible.
We offer a wide variety of sites: a regular rotation system ensures that diving spots are varied even during the peak summer season. So during your stay you will be able to dive near plateaus, rocks, drop-offs and even wrecks, which will allow you to discover the variety of Mediterranean flora and fauna.
For information, the centre offers introductory diving certificates and levels 1 to 4
Sea kayak - Stand up Paddle, departure from port Gallice.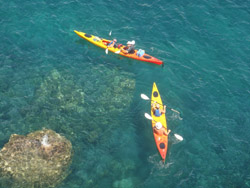 The Côte d'Azur is a region with a wealth of different landscapes and its jagged shores are well suited for beautiful treks. The Paddle Centre is located on Cap d'Antibes, at Port Gallice; since 2012 it has been the Cap Kayak headquarters.
For treks, introductory sessions and rental, Cap Kayak provides sit-on-top kayaks and kayaks with decks.
For excursions, introductory sessions and rental, Cap Kayak provides multipurpose SUP boards, ideal for outings on calm water, and 12'6 Wing boards by the brand Bic Sport for downwind (a more intense sporting activity, reserved for informed users); the boards are adapted to each user's body size and level.
You need to be in good health, and know how to swim in and underwater to carry our this activity. Children are accepted from 8 years of age; they must be accompanied by an adult in case of rental.
Water activities at sea in Antibes (route du bord de mer, RD 6098).
Ski wakeboard
The rider is pulled along by a boat. He uses the wave created in the boat's wake in order to do different types of jumps and movements, inspired by sports such as snowboarding, surfing, skateboarding...
Jet Ski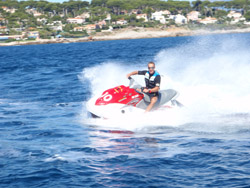 « With or without boating licence, come to discover the joys of jetskiing! They can be piloted by riders from 16 years of age, under the guidance of instructors with qualifications recognized by the state, to ensure a safe jetskiing session. One or two people. Enjoy a sporting ride or an outing among friends.
Parasailing
Near Nice or Antibes depending on the direction of the wind, enjoy an outing 40 metres above the water. Alone or with a partner, from age 5 to 77, you will discover the Cote d'Azur as seen from the sky.
Tubing
Three or four people on an inflatable object, towed by a boat with 350 horsepower. An outing jumping the waves for children and with sharp turns for adults. The pilot, with a qualification recognized by the state, guarantees a sensational yet safe adventure.
Flyfish 
Three to five people. Come to enjoy new thrills... From little outings for children to redeo for the hardiest. The pilot, with a qualification recognized by the state, guarantees a pleasant and safe outing.
Pilot Experience
You always wanted to drive a Ferrari or a Lamborghini ?
Departure from Eze or Monaco, Monaco for its legendary F1 circuit and its scenic roads overlooking the Principality, Eze Village for the beautiful winding roads and the fluid traffic flow throughout the year.
On sale at our Tourist Offices. For more information, please contact us.
/////
*GENERAL TERMS AND CONDITIONS OF INDIVIDUAL TICKETS, TOURISM & CONVENTION BUREAU:
Tickets cannot be returned, exchanged or refunded, even in the case of loss or theft.Their resale is forbidden (law of 27th June 1919).
Concert/Show tickets :
1. In case of changes to the programme or distribution or if the performance has to be interrupted or abandoned during the second half, no refund or compensation will be paid.
2. Photography, filming and recording are forbidden.
3. Smoking is forbidden.
4. Mobile phones must be turned off.
Leisure tickets :
5. The activity may be postponed in case of bad weather conditions, at the sole decision of the activity provider.
6. This ticket is valid only for the date and time indicated on the front. The client must arrive before the beginning of the activity and respect the recommended time of arrival. Late arrival will lead to the cancellation of the reservation, without possibility of postponement or refund.
7. In the event that the duration exceeds the agreed schedule, an extra charge will apply.
8. We remind customers that they must always follow the basic safety precautions for risky sporting activities. The client accepts the risks related to the activity.
9. For all rental, a deposit will be required by the activity provider.
10. Transportation is not included in the activity.
/////