You are here
Home
› Guided tour on the Coastal path "sentier de Tire-Poil" - Immerse in the nature of the Cap d'Antibes
Guided tour on the Coastal path "sentier de Tire-Poil" - Immerse in the nature of the Cap d'Antibes
Retour Moteurs de recherche
Office de Tourisme et des Congrès
60 chemin des Sables
France
Telephone :
+33 (0)4 22 10 60 01 / 10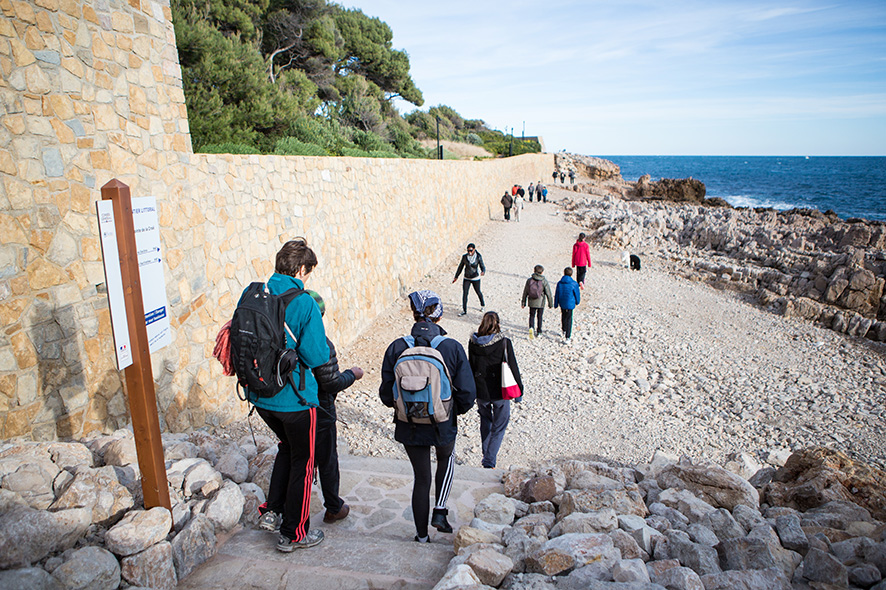 Guided tour on the coastal path "sentier de Tire-Poil" - Immerse in the nature of the Cap d'Antibes
 
Discover with a guide the landscapes, the points of view and the remarkable species of the Tire-Poil path. Sea Lavendar, Jupiter Beard, Common Tern… these are the suggestive names which indicate the natural wealth of this little paradise on the Mediterranean coast. You will meet native and exotic plants and will learn to respect the protected species present on the Cap d'Antibes.
A naturalistic, educational, playful and sports activity for the whole family!
Each month, this guided tour is scheduled in French only (see the dates at the end of Month programm). This tour is possible for groups, in English, on request.
Departure  : free Garoupe parking.
2 hours and half. It is advisable to wear comfortable shoes.
Basic rate :
7€ par personne – 12€ pour un couple – 3.50€ pour les enfants de 8 à 16 ans et les étudiants. Gratuit pour les moins de 8 ans
Payment methods :
Carte bancaire
Visa
Eurocard - Mastercard
Chèques bancaires et postaux
Espèces