Exhibition "Chemin de traverse"
Exhibition , Painting
at Antibes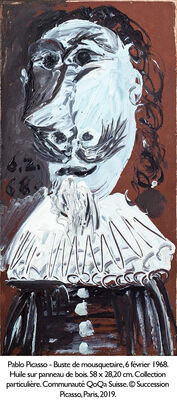 As new modern and contemporary collections are hung, visitors will be able to discover the museum's latest acquisitions: works by Anna-Eva Bergman and Hans Hartung, as well as a room dedicated to the Russian painter Eduard Steinberg. Two more rooms will be devoted to Nicolas de Staël, followed by a tour including the works of the key artists of the 20th century: Jean Degottex, Jean Dubuffet, Pierre Soulages, Jean-Pierre Bertrand, Pierrette Bloch, Germaine Richier, Robert Malaval, Niki de Saint Phalle, César, Arman, Martial Raysse, Yves Klein, Jean Charles Blais, Jean Le Gac, Geneviève Asse, Antoni Clavé, Antonio Saura and Zoran Music, with a particular focus on the works of Jean Leppien and Jacques Prévert. Picasso's "Buste de Mousquetaire" was recently acquired by the museum and is also on display.
Accessibility

Mobility impaired
Hearing impaired
Mentally impaired
From

June 27, 2019




until

September 22, 2019
Tuesday

10:00 AM - 6:00 PM

Wednesday

10:00 AM - 6:00 PM

Thursday

10:00 AM - 6:00 PM

Friday

10:00 AM - 6:00 PM

Saturday

10:00 AM - 6:00 PM

Sunday

10:00 AM - 6:00 PM