The Shadows of the Styx
Exhibition , Comics
at Antibes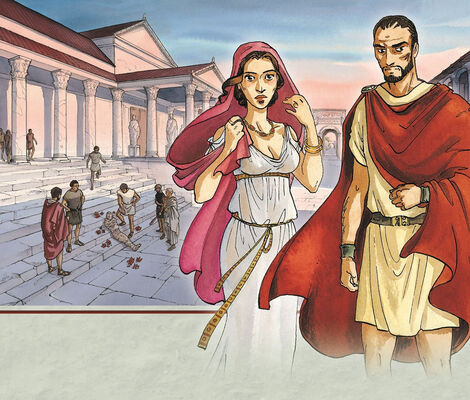 An encounter between archeology and comics

It's 205 A.D. A serial killer is raging in Leptis Magna, a large city in North Africa. Marcus Seïus Dento, Investigator of Emperor Septimus Severus, is dispatched on the site…
In a three-volume comics (Delcourt editions), Isabelle Dethan delivers a historical crime novel whose outcome is known only in the last pages. The temporary exhibition presents about thirty original plates and invites the visitor to a «step by step analysis» to discover the temples, houses, necropolises, antic society... , all themes of the daily life of a Roman city to which will echo many archaeological objects belonging to the museum or borrowed from other collections.
A section is devoted to Isabelle Dethan's work, with films and a sketch notebook. Exhibition designed by the Gallo-Roman Museum and site of Saint-Romain-en-Gal – Vienne and adapted for its presentation in Antibes by the Archaeological Museum.
From

May 11, 2019




until

October 6, 2019
Tuesday

10:00 AM - 12:00 PM

2:00 PM - 6:00 PM

Wednesday

10:00 AM - 12:00 PM

2:00 PM - 6:00 PM

Thursday

10:00 AM - 12:00 PM

2:00 PM - 6:00 PM

Friday

10:00 AM - 12:00 PM

2:00 PM - 6:00 PM

Saturday

10:00 AM - 12:00 PM

2:00 PM - 6:00 PM

Sunday

10:00 AM - 12:00 PM

2:00 PM - 6:00 PM