Chapelle Saint-Bernardin
Listed or registered (CNMHS) , Historic site and monument , Baroque , Gothic , Chapel
at Antibes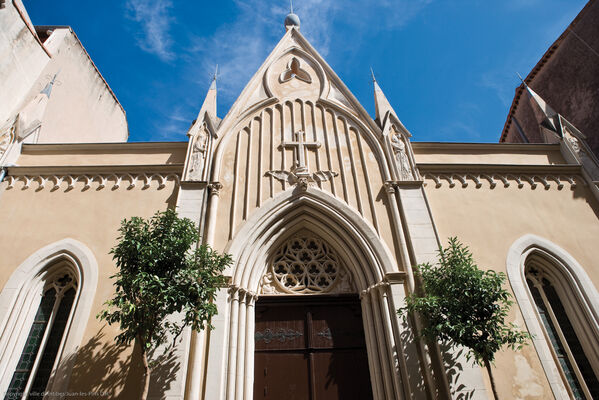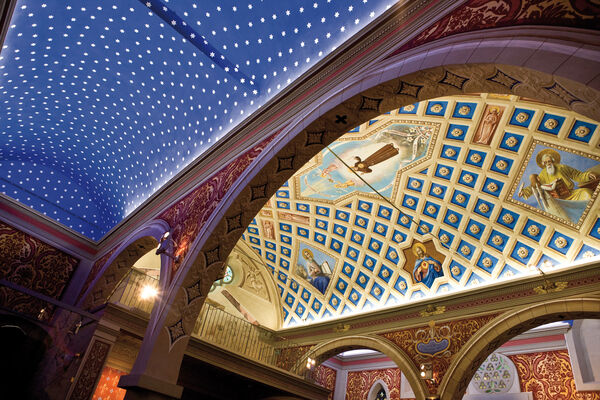 In the heart of the old town of Antibes, the Saint-Bernardin Chapel, named after Bernardin Albizeschi (14th century), dates to the 16th century. Its side door on Rue Saint-Bernardin, in solid walnut, is dated 20 March 1581.
The Chapel has been listed as an historical monument since 1989 and was fully restored between 1995 and 2011.

On the outside, the façade facing Rue Rostan is in a neo-Gothic style. It is crowned with turrets supporting the outlines of hooded penitents in white on the sides.
Above the door, Lucifer is represented as a terrifying winged dragon with a tail and huge with long, sharp claws. He reigns over three worlds: underground, earth and sky. The dragon twists and roars at the foot of the cross, beaten down by saints and protective angels.

Inside, three statues represent Saint Roch, Saint Sébastien and Saint Bernardin de Sienne. On the sides, the ceiling is in starry ultramarine blue. You can also admire 16th century frescos representing the table of the Apostles. The altar is adorned with four twisted gilt wooden columns in a baroque style, and embellished with Acanthus leaves.
In the vaulted room lies a reproduction of a painting by Painter Antoine Aundi, "La descente de la croix" (The Descent of the Cross).
Services

Accessibility

Mobility impaired
Hearing impaired
Mentally impaired
Visually impaired