Concert Duo Köln
Cultural , Music , Concert , Classical music
at Antibees, Antibes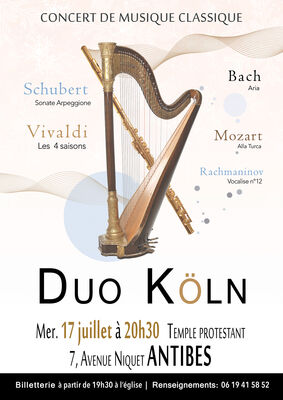 The musicians of the Duo Köln revisit the masterpieces of classic, baroque and romantic music through the prestigious band of flute & harp. They offer a new reading of Vivaldi's famous "Four Seasons" as well as F.Schubert's Arpeggione sonata.
In addition, they will perform the "Fantasy on the airs of Carmen" by Sarasate, "Prelude & Allegro" by Kreisler, an "Adagio" by Bach, "Alla Turca" by Mozart, "the vocalist n°12" by Rachmaninov...
Flute: Issam Garfi, Harp: Dora Scapolatempore

Tickets will be on sale on the day of the concert from 07:30 pm.
Schedules

On

July 17, 2019

at 8:30 PM